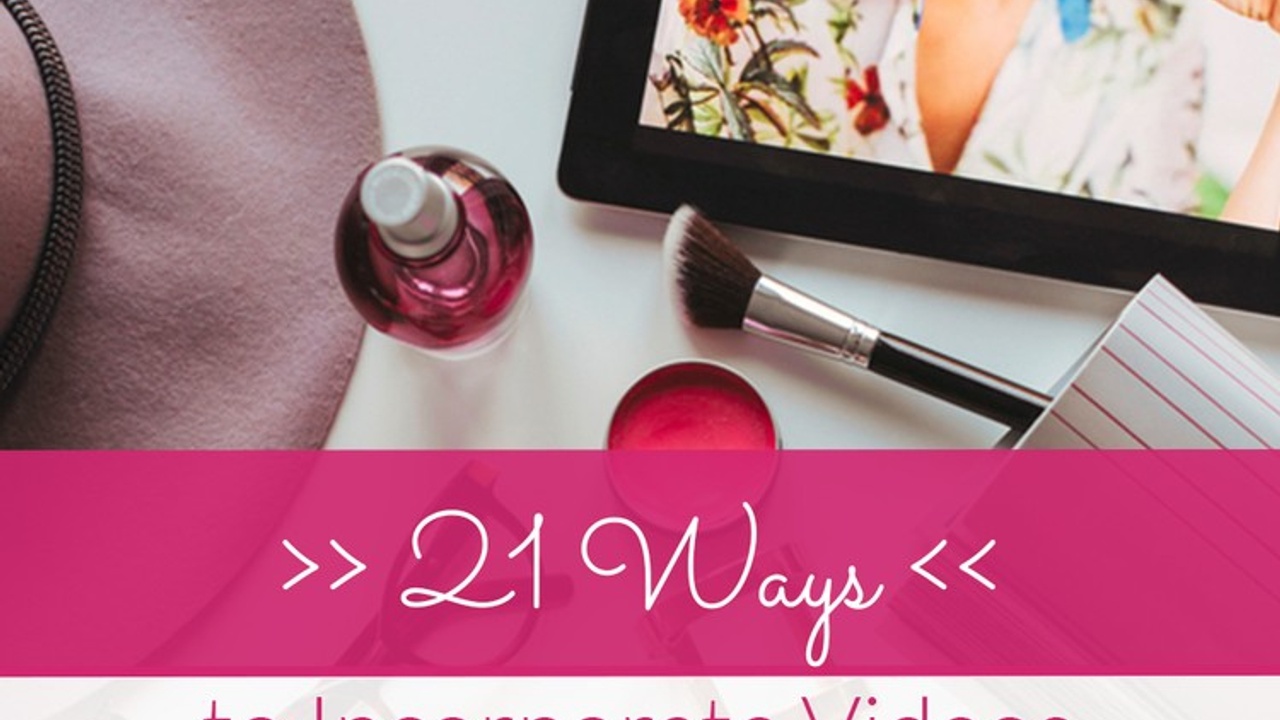 21 WAYS TO INCORPORATE VIDEOS INTO YOUR BIZ!
If you are anything like most of the entrepreneurs I know, you have either already started to include video in your marketing plan or are busy trying to figure how.
Video is everywhere and there are some pretty compelling reasons why:
A third of all online activity is spent watching video
75% of users visit the marketer's website after viewing a video
80% of internet users remember the video ads they watch online
80% of online visitors will watch a video, while only 20% will actually read the content in its entirety
a website is 50 times more likely to appear on the first page of a search engine results page if it includes video
It's abundantly clear that video has a way of engaging customers and potential customers better than any text-based marketing. Which is great—and stats are great—and getting more conversions is great—and increasing your SEO is great—but I'm a little more touchy feely when it comes to marketing.
For me, marketing is all about connecting with my peeps and that's why I love video.
Video is hands down the best way to connect with your community. Video allows us to tell stories and create an authentic emotional connection—plus there is no better way to share your uniqueness, your personality and your authentic brilliance than through the magic of video.
I like to think about creating videos not in terms of selling, but rather as a way to educate, inspire, entertain and engage.
(Pssst... want your very own pretty PDF version of this list? Click the button below and have one delivered right to your inbox.)
1. A welcome video for your website. What better way to say hello, than to actually record yourself saying hello?! Welcome new visitors to your world by pointing out key areas they might be interested in and sharing a little about yourself.
2. A video manifesto. Share your core message and vision for the world, or at least your corner of it. Let your people know what you stand for and what your mission is all about.
3. An "About Me" video. Instead of the standard "About Me" page that you can find on almost any website, why not infuse your "About Me" with a big dose of YOU, live and in technicolour?!
4. A company introduction. Introduce the key members of your team and put a face to the name on the other side of the email. Share a little about the work they do and maybe an interesting quirk about each person, something surprising and fun.
5. A demonstration of your process. Do a behind-the-scenes video showing your creative process or how a product is made. Are you a painter, a writer, a designer? Show us what goes into taking your creation from an idea to a finished product. This could be as simple as a slideshow of photos or screen captures you take over a couple of days, with a little voice-over added in to describe what's happening.
6. A video opt-in. Why not make your opt-in a video, share some great content and helpful strategies or tips through a video? My advice is to always create your opt-in with a generous heart -- share your best stuff and create a lasting, authentic relationship.
7. Add new life to your existing opt-in by shooting a video introduction. Let people know what your opt-in is all about -- you could even share some great feedback you have had from others who have benefited from it.
8. A case study or client's story. Share a case study of one of your favorite clients. Why did they come to you? What did your work together look like? What results did they experience? This could be an interview with the client or (with their permission of course), you could discuss the process anonymously.
9. A product demonstration. Show your product in action, let people see it in a whole new way. Describe the features and benefits as you go, let your customers get excited about the product so they feel confident in clicking the "buy now" button.
10. A response to your FAQs. Answer your most frequently asked questions with a helpful video. Is there a process that people always seem to stumble over in your business? Why not show them a simple demonstration to make it easier. While you're at it you could shoot a little series of answers and post them where they are easy to find on your site.
11. A behind-the-scenes tour. Show people where the magic happens. What does your office look like? Who do you share your space with? People want to know about you (and your furry friend or little munchkin).
12. A follow up. Send a video follow-up to a customer, ask them how they are enjoying their purchase or if they have had a chance to dive into your latest ebook. Invite them to share their feedback with you.
13. A blog content update. Revisit your most popular blogs and convert them into videos, there's nothing wrong with reimaging great content and you already know it's information that people connect with.
14. A video course. Add content to your online courses in video format. It will add in extra variety, as well as address multiple learning styles. Plus video takes the value of your courses to a whole new level.
15. A personal story. Leverage the capacity of video to elicit an emotional connection by sharing a personal story, maybe one that allows them to get to know you better or illuminates a concept you are trying to convey.
16. A video series. If you have a topic that feels too big for a short video or takes a little more time to explain, why not break it up into a series and release it over a few weeks? This is a great way to keep people engaged and eager to hear more.
17. An invitation. Instead of the standard invite to your next webinar, event or workshop send out a video invitation and show, don't tell: include images or footage of the location or excerpts from your last event.
18. A thank you video. Imagine your customer has just purchased your product or service, what better way to add a personal touch and truly express your gratitude than with a video. (Extra credit: throw in a bonus gift and tell them during the video that it's "on the way").
19. A sales page introduction. Grab their attention right off the bat with a short video that addresses your ideal client's pain points, let them know that you understand their struggles and frustrations and then immediately communicate how your unique product or service addresses each of those points. You can explain further and include more details in the sales page text but a short video will immediately get people engaged and interested in learning more.
20. An explanation. Many creative entrepreneurs have unique "job titles" or work in new or lesser known industries. Why not make a short video to explain what you do and how it helps people? For example, not everyone knows what life coaching is or what the heck a "Creative Catalyst" does—you can use this as an opportunity to not only educate, but also as the perfect opportunity to showcase your uniqueness!
21. A contest announcement. Instead of a convoluted series of instructions on your website, announce your upcoming contest or challenge with a video. Not only is it a great way to explain how it's going to work and to give all the important details; it's a wonderful opportunity to get people really excited by introducing the prizes and telling them what they can win!
Are you feeling inspired and looking for an easy way to begin creating and incorporating videos into your marketing? If the answer is yes I have just the thing for you...
Come check out my FREE Training Series—Five-Steps to Creating Authentically Brilliant Videos and learn my simple five-step approach to creating videos that get you noticed and get you connecting.